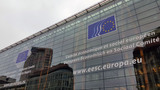 © Kevin Bergenhenegouwen
Page Content
​​​​​​The ECON Commission constitutive meeting will take place on 13 February 2020 ​from 09:00 to 10:00 (2nd day of the plenary session) in the European Committee of the Regions in Brussels, room JDE 62.
You may find the meeting documents here​.
Contact:
Contact Person: ECON secretariat
Organizer: European Committee of the Regions, ECON Commission
Email: econ@cor.europa.eu
---
Contents
Dit orgaan is de spreekbuis voor lokale en regionale overheden binnen de Europese Unie. De Raad van de Europese Unie i en de Europese Commissie i zijn in bepaalde gevallen verplicht advies te vragen aan het Comité van de Regio's (CvdR), voordat zij een besluit kunnen nemen.