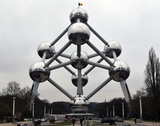 © Kevin Bergenhenegouwen
Main results
Finance ministers met, by video conference, starting in inclusive format (all EU member states) and concluding in regular format (euro area ministers).
President Centeno on the Eurogroup's response to the economic fallout of the coronavirus.
Inclusive format
COVID-19: economic policy challenges
The Eurogroup held an in-depth discussion, together with non-euro area members, and adopted a statement on "how to respond to the extraordinary human and economic crisis caused by the coronavirus".
We will protect our citizens and our currency, come what may and with everything we have got. Our commitment to provide support in this time of need is unlimited.
Eurogroup President Mário Centeno
Reform of the European Stability Mechanism treaty
Ministers discussed the state of play of the European Stability Mechanism (ESM) package of reforms and the early introduction of the common backstop.
Regular format
Preparation of international meetings
The Eurogroup took stock of inflation and exchange rate developments over the past months in view of the upcoming IMF Spring meeting.
Greece: fifth enhanced surveillance report
The Eurogroup briefly discussed the fifth enhanced surveillance report on Greece. The report is not linked to a decision on the policy-contingent debt measures.
Greece has been able to outperform its fiscal targets for the fifth year in a row, reaching a primary surplus of 4% in 2019. We all agree that Greece will also be able to make full use of the flexibility with the fiscal rules to deal with the consequences of the coronavirus.
Eurogroup President Mário Centeno
Updated draft budgetary plan of Austria
The Eurogroup was informed on the next steps concerning Austria's draft budgetary plan (DBP) of Austria.
---
Contents
De Eurogroep bestaat uit de ministers van Financiën van de landen die de euro als nationale munteenheid hebben ingevoerd (de eurozone i). Dit samenwerkingsverband heeft als doel de coördinatie van economisch beleid binnen de muntunie i te versterken en de financiële stabiliteit van de eurolanden te bevorderen. Het is strikt genomen een informeel orgaan en geen formatie i van de Raad.
De Eurogroep bereidt ook de bijeenkomsten voor van de Eurotop i, die bestaat uit de staatshoofden en de regeringsleiders van de eurolanden, en zorgt voor de uitwerking van de besluiten die daarin worden genomen.