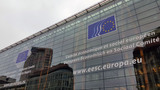 © Kevin Bergenhenegouwen
Page Content
​​​​​​​​​​​​​The European Committee of the Regions' ENVE Commission is currently working on the "Fitness check of the Water Framework Directive and the Floods Directive" which was published on the 10th of December 2019 by the European Commission.
The Fitness check evaluates 4 specific Directives:
-

​Water Framework Directive (WFD, 2000/60/EC);
-

Groundwater Directive (GWD, 2006/118/EC);
-

Environmental Quality Standards Directive (EQSD, 2008/105/EC);
-

Floods Directive (FD, 2007/60/EC).
The Water Framework Directive is the most comprehensive instrument of EU water policy and its main objective is to protect and enhance EU water resources to achieve good status. The fitness check evaluates this Directive and its two other "daughters" Directives directly linked to it (Directive on Groundwater and on Quality Standards) and also the Floods Directive which has been the catalyst for introducing a risk management approach to water floods across the EU.
The Rapporteur Piotr CAŁBECKI (PL/EPP) and his expert Professor Maciej ZALEWSKI wish to discuss these topics with relevant stakeholders on:
​
Thursday 20th of February 2020 from 11.00 to 13.00
(Registration will start at 10.30)
in the Committee of the Regions building
(Rue Belliard 101, B-1040 Brussels)
Room JDE51
The meeting will be held in English and Polish (interpretation available into those languages)
The working document for the opinion of Mr CAŁBECKI​ is available via this link.
​
Please register to the stakeholder consultation via the registration page​.​
Contact:
Contact Person: ENVE
Organizer: ENVE Secretariat
Email: enve@cor.europa.eu
---
Contents
Dit orgaan is de spreekbuis voor lokale en regionale overheden binnen de Europese Unie. De Raad van de Europese Unie i en de Europese Commissie i zijn in bepaalde gevallen verplicht advies te vragen aan het Comité van de Regio's (CvdR), voordat zij een besluit kunnen nemen.