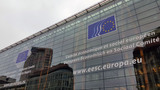 © Kevin Bergenhenegouwen
Page Content
​​​​​This study on the history of the Committee of the Regions will be presented by Karl-Heinz Lambertz, President of the Committee of the Regions, just before the closing of his mandate​. The author Birte Wassenberg, professor of Contemporary History at the institute for Political Studies, University of Strasbourg, will comment on the study and will answer questions from the floor. The discussion will be moderated by Andrea Bodova, Deputy Head of the Events Unit of the CoR.
The study forms part of a new approach to European integration that focuses on the history of the EU's institutions. It aims to preserve their memories and to tell their true story, based on a combination of documentary research and interviews with eye-witnesses. It can therefore be regarded as part of the discipline of "immediate history" - a discipline that is still relatively new among researchers in the history of European integration.
Contact:
Contact Person: Events Unit
Organizer: European Committee of the Regions
Email: conferencesCdR@cor.europa.eu
---
Contents
Dit orgaan is de spreekbuis voor lokale en regionale overheden binnen de Europese Unie. De Raad van de Europese Unie i en de Europese Commissie i zijn in bepaalde gevallen verplicht advies te vragen aan het Comité van de Regio's (CvdR), voordat zij een besluit kunnen nemen.