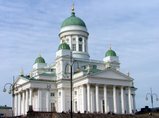 Eurofound, in cooperation with the Finnish Ministries of Economic Affairs and Employment and Social Affairs and Health as well as the Finnish social partners, is organising a one-day seminar on the effects of digitalisation on the quality of working life on 26 November 2019 in Helsinki.
The event will bring together experts, policy makers, Eurofound Management Board Members and members of the Network of Eurofound Correspondents, as well as national level social partners. The aim is to discuss the effects of digitalisation on the quality of working life and to identify policies supporting quality in work in the digital age. The seminar will bring together up to 40 participants from Denmark, Estonia, Finland and Sweden.
Since the onset of digitalisation, many workers are experiencing greater flexibility in work. However, a digital work environment also brings challenges such as the blurring of boundaries between work and personal time as well as higher levels of work intensity. Policy attention is shifting towards the challenges relating to changing practices in work organisation, the increase of digitalisation and the rise of new forms of employment and the effects on quality of work.
The objective of the seminar is to use Eurofound findings to facilitate debate and networking with national level actors. It also aims to feed into and provide information for the shaping of national level policies such as Finland's upcoming plans on quality of work and digitalisation. The seminar encourages participants to exchange ideas and learn about good practices from their neighbouring countries.
Attendance is strictly by invitation.
For more information, please contact events@eurofound.europa.eu.
---
Contents
Dit agentschap i draagt bij aan het Europees sociaal beleid door onderzoek te doen naar de werk- en levensomstandigheden binnen de EU. Eurofound voorziet regeringen, werkgevers, vakbonden en de Europese Commissie i van bevindingen, kennis en advies afkomstig van onafhankelijk en vergelijkend onderzoek.
Door middel van een verordening (COM(2016)531) uit 2016 werd de oude Eurofound-richtlijn uit 1975 herzien. Het doel van de herziening is om de structuur van de organisatie te moderniseren en de regels te updaten. Zo moet de rol van Eurofound worden geconcretiseerd. De verordening trad op 20 februari 2019 in werking.