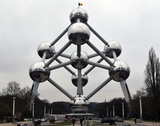 © Kevin Bergenhenegouwen
On 28 January 2020, Eurofound together with ACCA and SMEunited are organising a joint conference on 'The changing environment of the self-employed'. Time: 14.00-17.45 CET.
As a new College of Commissioners takes shape, together with a recently elected European Parliament, this event will be a timely opportunity to debate how the world of work is constantly evolving due to megatrends such as globalisation, changing lifestyles, an ageing population, new business practices and digitisation and the impact on employment.
These recent changes have led to increased labour market flexibility and greater diversity in forms of work, creating new types of work and allowing more people to become professionally active. Yet little is known about these new types of work, mainly created through online platforms. Some argue that this form of self-employment brings great opportunities and there are those that highlight the many challenges and risks. And what are the implications of these new realities for public policy in Europe?
The half-day conference will bring together up to 100 policy makers, social partners, representatives from business, professional bodies and academia. It will be a chance to explore the changing landscape of the self-employed through the prism of new business models and platforms. It will also be an opportunity to debate the blurred boundaries between dependent employment and self-employment. A first panel session will look at taxation and employment/social aspects, including the thorny issue of social protection. The second will cover company law and platform business relations, including issues linked to fair digital corporate responsibility and fairness in platform work.
Confirmed speakers include: Juan Menéndez-Valdés, Executive Director of the European Foundation for the Improvement of Living and Working Conditions (Eurofound); Dragos Pislaru, MEP ; Salla Saastamoinen, Director, DG JUST; Stijn Broecke, Head of Future of Work, OECD; Karolien Lennaerts, KU Leuven; Mathijn Wilkens, Research Officer, Working Life Unit, Eurofound; Ignacio Doreste, ETUC; Gerhard Huemer, Director, Economic Affairs and Taxation, SMEunited; Luc Hendrickx, Director of Enterprise Policy and International Affairs, SMEunited; Jason Piper, head of Business Law and Taxation, ACCA.
Venue: WestMidland Europe Hub, Avenue d'Auderghem, Brussels, Belgium. Time: 14.00-17.45 CET.
To attend, please Register here​
Please note that pictures, videos, and audio recordings will be made at this event in which you may be featured. By attending this event, you grant the organisers the right to use such material for non-commercial purposes, including the posting of photos and/or videos on our website. If you wish to object to this, please contact the organisers.
---
Contents
Dit agentschap i draagt bij aan het Europees sociaal beleid door onderzoek te doen naar de werk- en levensomstandigheden binnen de EU. Eurofound voorziet regeringen, werkgevers, vakbonden en de Europese Commissie i van bevindingen, kennis en advies afkomstig van onafhankelijk en vergelijkend onderzoek.
Door middel van een verordening (COM(2016)531) uit 2016 werd de oude Eurofound-richtlijn uit 1975 herzien. Het doel van de herziening is om de structuur van de organisatie te moderniseren en de regels te updaten. Zo moet de rol van Eurofound worden geconcretiseerd. De verordening trad op 20 februari 2019 in werking.