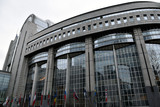 © Kevin Bergenhenegouwen
Program:
Press conference by Antonio TAJANI, President of the European Parliament, by Jean-Claude JUNCKER, President of the EC and Sebastian KURZ, Chancellor of Austria
---
Contents
Het Europees Parlement (EP) vertegenwoordigt ruim 450 miljoen Europeanen en bestaat momenteel uit 705 afgevaardigden i (inclusief voorzitter). Nederland heeft 29 zetels i in het Europees Parlement. Het Europees Parlement wordt geacht een stem te geven aan de volkeren van de 27 landen i die aan de Unie deelnemen, en vooral te letten op het belang van de Unie in zijn geheel.
De leden van het Europees Parlement worden om de vijf jaar rechtstreeks gekozen door de burgers van de Europese Unie. De volgende verkiezingen zijn in 2024. Het Parlement debatteert op basis van voorstellen van de Europese Commissie i en kan daarbij wijzigingen voorstellen, waarna het Parlement samen met de Raad van de Europese Unie i een beslissing over deze voorstellen neemt.